Divine Office
The prayer of the Church.
The Apostle exhorted Christians to address "one another (in) psalms and hymns and spiritual songs, singing and playing to the Lord in your hearts, giving thanks always and for everything in the name of our Lord Jesus Christ to God the Father." (Ephesians 5:19-20, NAB)
Solemnity lived in fraternal community, which makes present Christ's mystery in important moments during the day. The canonical hours follow the order of salvation history, in which Christ fulfilled and still fulfills every day the work of the promised redemption.
"And they were all filled with

the holy Spirit…"

at "nine o'clock in the morning."


(Acts 2:4.15, NAB)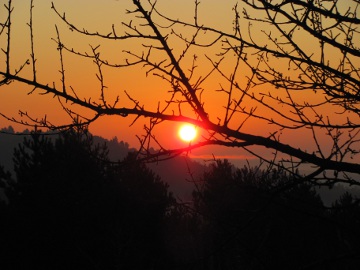 "…it was about noon. … [Pilate] handed him over to them to be crucified…"
(John 19:14.16, NAB)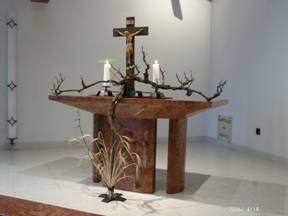 "And about three o'clock
Jesus cried out in a loud voice…
and gave up his spirit."
(Matthew 27:46.50, NAB)
The praise, thanksgiving, prayer, and intercession are all articulated in Hungarian and in musical form, together with those praying with us in our church.
Assisted by instrumental accompaniment, prayer pours out from the depths of our heart, preserving its intimacy, and by overcoming all barriers becomes the voice of elevating love.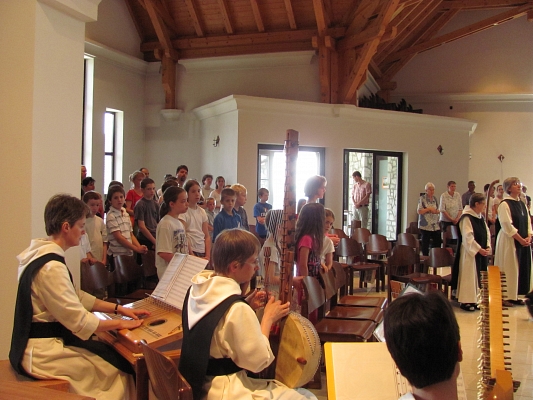 "Praise Him with the psaltery and harp! ... Praise Him upon the loud cymbals;
praise Him upon the high sounding cymbals!"
(Psalm 150:3-5, NAB)